A UX research plan (or a user research plan) is a document used to organize all the most relevant information regarding the purpose, methods, organization, logistics, and timing of the planned UX research.
Creating a User Experience research plan may seem straightforward, but one perfect method doesn't exist.
The existence of many frameworks of UX research plans provides the best evidence that this is a demanding and challenging task.
Every researcher, especially an experienced one, has preferences in terms of structure, content, and level of detail of a research plan, which they use in their studies.
Every UX research novice usually learns about the current templates for creating research plans and modifies them to their own needs and preferences.
Nonetheless, there are standard elements to consider when creating your UX research plan.
What are the advantages of creating research plans? What should a standard UX research plan contain?
What elements shouldn't be forgotten when creating a User Experience research plan? Who is the research plan intended to serve?
How should it be written? What information mustn't be missing in the standard research plan?
You should read this article if the topic of User Experience research is important to you and you're looking for an optimal tool to support the research process.
We cordially invite you to read it!
UX research plan – what is it?
UX Research (e.g., usability testing) is becoming increasingly popular, and awareness of the benefits of performing it and investing in it is stronger and more widespread.
However, it should also be noted that the situation is still far from ideal.
Usability testing of web and mobile applications hasn't been met with understanding and proper interest so far.
Valid arguments according to which UX research is a permanent, necessary, and instrumental element of designing, creating, implementing, and developing a product haven't yet fallen on fertile ground.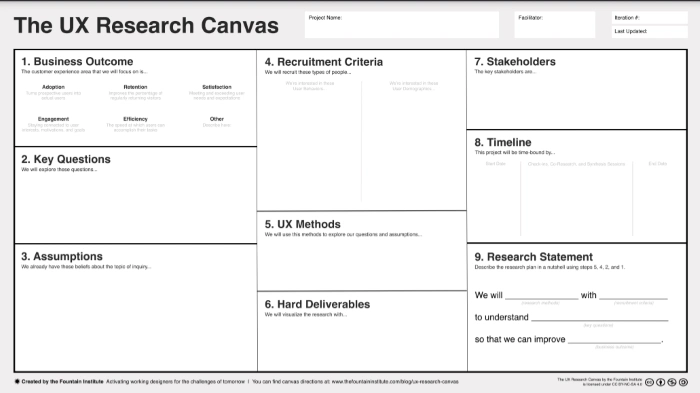 Meanwhile, without User Experience research and usability testing, it's tough to imagine a highly competitive and rapid market conquest by a digital product.
UX research and UX usability tests are often considered redundant or unnecessarily burdensome to a project budget and, as a result, postponed in time.
In favor of UX research – besides the issues of financial returns and risk minimization – speaks its scientific and academic nature (e.g., UX usability tests).
User Experience and usability research is a field of knowledge constantly being developed in terms of theoretical, analytical, and methodological research within the framework of the broader HCI – Human-Computer Interaction research.
It's a field of knowledge (studying user behavior) developed in universities, independent institutes, and research companies.
UX research uses the achievements of methodologies developed, among others, on the basis of psychology, sociology, and ethnography.
Techniques, methods, and research tools used (e.g., for usability testing) ensure a high level of credibility of the results and guarantee their reliability and usability (including strictly business usage).
Usability here is understood very broadly as an opportunity to improve the product based on data and research results, gain market advantage, and increase profits.
A UX research plan, which also has this side function, allows you to effectively argue in favor of the benefits of conducting them. However, it isn't the primary purpose of its creation.
The goal of creating UX research plans seems quite clear. The idea is to describe, define, and aggregate research objectives in as much detail as possible so that nothing is overlooked during the study. It helps you to organize your UX research project.
A research plan (used in qualitative and quantitative research) is a document that's a valuable reference point that reminds us about essential aspects. It organizes the study in a methodological and epistemological sense.
It's a helpful document regarding substance and organization (it allows for selecting an appropriate research method). Therefore, it helps researchers not to overlook anything and control the course of a study according to established assumptions.
Without a good research plan, it's impossible to think of professional usability research.
A plan indicates directions and defines goals that guide researchers. It points out the best measures and methods that guarantee the most reliable and credible results, consistent with the standards of academic research.
Other advantages of creating research plans
As we have already mentioned, a research plan is a tool, and as such, it serves very different purposes.
In terms of merit, it allows you to conduct UX research, UX testing, and target group evaluation research in a structured, efficient, result-oriented, sequential, and controlled manner.
It also provides an opportunity to problematize and to reflect on the following:
The subject of a study – what we want to learn and the reasons that motivate us to make a research effort
Results of research – benefits of the research findings and possible fields of their use
Research values – in the sense of immediate usefulness in a given project and the forward-looking, strategic role of research, aggregation, analysis of results, perceiving deeper trends thanks to it, and discovering invisible relationships
Influence of a study – on competitiveness, building advantages, and increasing profits
Research relevance – the ability to test different studies on the same research problem and, thanks to it, obtain a much broader and more complex perspective
Proportion of profits and costs.
A UX study scenario, which is equally important, is extremely helpful in identifying and posing the most accurate research questions.
It also makes it possible to discover research gaps during its creation and research sessions.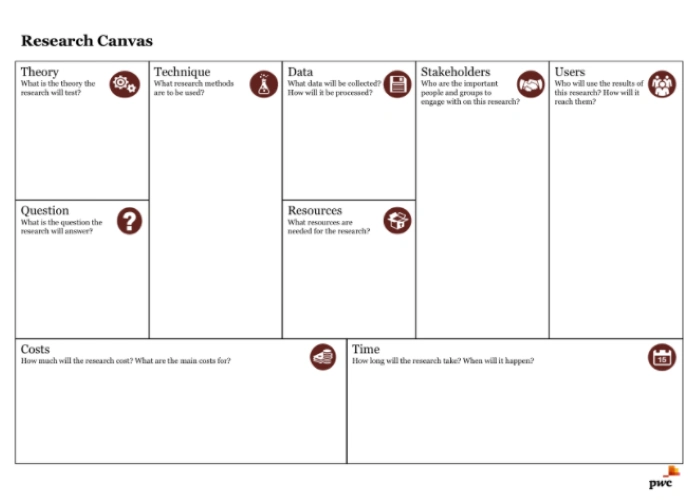 Systematizing knowledge, goals, tools, and methods helps with the following:
Determining the most optimal time frame for all stakeholders (and this isn't always an easy task)
Directing user research in the long-term
Increasing the engagement of stakeholders
Establishing directions for digital product development
Obtaining a common, consensual scope of knowledge, goals, expectations, and indicators of success.
Moreover, as the authors of the research guide (The Ultimate Guide to UX Research), published on Maze, write, a study scenario makes it possible to communicate its schedule, goals, and research scope to all stakeholders.
In addition, the UX research plan aids with the following:
Specifying expectations
Organizing, documenting, and sharing crucial information
Reasoning and justifying the need for research
Determining the budget needed to conduct a study
Structuring the course of research
Prioritizing goals
Foreseeing challenges and/or allowing you to be ready for them
Defining indicators of research success and its various stages
Identifying roles – specifying "who," "what," "when," and "for what reason" is involved in a research project.
The most anecdotal summary of the benefits of creating a research plan may be a quote by Benjamin Franklin. Franklin supposedly said that anyone who doesn't succeed, who isn't an enthusiast of planning, is bound to succeed in planning for failure. It's worth keeping this memento in mind.
Creating a UX research plan. Step-by-step UX research plan template
As we've already mentioned, a single, universally used template or canvas for a User Experience research plan doesn't exist.
However, any good UX research plan should include standard elements such as:
Description and background of a research problem (e.g., customer satisfaction, performance of a checkout in an online store)
Research goal, or rather objectives that research should aim to achieve
Identification of stakeholders
Description of the most appropriate research method (e.g., whether you opt for qualitative research or quantitative research)
Review, analysis of previous studies (in-house or external) and their results, conclusions
Creation of research questions
Definition of participants, creation of a profile for research participants identical to the target audience
Description of the study's methodology – method of its implementation, guaranteeing the highest credibility of results
Selection of UX research tools and UX research methods
Definition of success criteria
Establishment of a project's schedule
Determination of the presentation of study results.
Let's look at the various elements of a UX research plan, their content, the role they fulfill for the researcher, and their function in a research project.
Description and background of a research problem
This part of the UX research plan is primarily used to describe, explain, and present to stakeholders the following:
Reasons for the study
Expected research results
Research problem, its characteristics, and complexity
Main research question.
In more colloquial terms, the background of a research problem should explain what a project is about. It should present and give access to the most crucial information.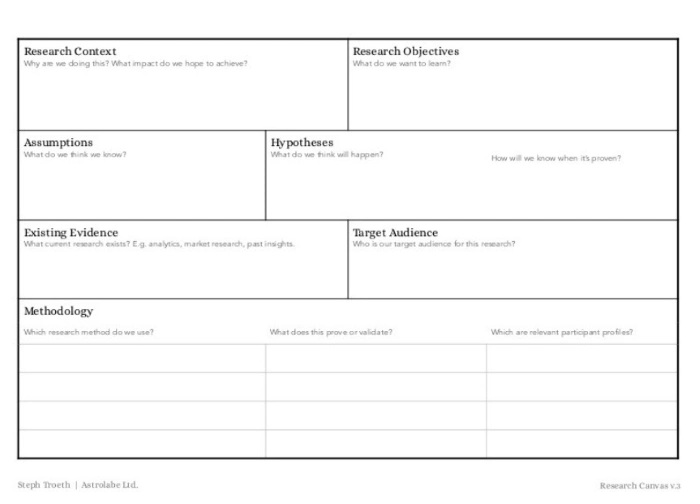 Research objectives
In this section of the UX research plan, the objectives of the UX study should be specified in great detail.
They should explain the following:
What's going to be done
The reason behind the desire to conduct a study with users
Problems that will be solved, thanks to the results of a study.
More detailed research questions will follow from a clearly defined purpose of UX research.
In this section, it's also worthwhile to flesh out the practical dimension of the research, namely to indicate how the results will be used, the scope of their use, and the effect of their use (e.g., what end-users will gain). In other words, what they'll be used for, how they'll be used, where, and what change they will bring.
Stakeholders
In most cases, the number of beneficiaries of User Experience research is larger than is commonly believed.
Research doesn't only serve UX/UI designers, UX researchers, or end-users of a digital product.
The results of UX research can also be helpful in everyday work for employees in other departments (e.g., customer service or sales department); these aren't just theoretical assumptions.
A research plan should identify beneficiaries as broadly as possible and support increased involvement of stakeholders representing different specialties, departments, roles, interests, and goals within an organization, not just an entire research team.
Research method
A research objective (e.g., testing forms in e-commerce) determines the research method.
Methods should be adapted to research objectives, capabilities (e.g., budget capabilities), resources, and the project's stage.
A research method should achieve research goals in the best, most efficient way possible and offer results that are the most useful for decisions based on them.
A general best practice is to combine quantitative and qualitative research.
Here are some examples of UX research methods:
User interviews
Surveys
Card sorting
Usability testing
Focus groups
Research review – state of knowledge
The majority of standard research isn't conducted in an epistemic vacuum.
Dynamic development of User Experience research (e.g., website testing) and numerous scientific journals give researchers a chance to learn about the latest findings on a given topic.
A UX research plan should consider this context and define the relationship between the author's studies and those already carried out by other researchers.
Reviewing and referencing research is very useful, as it provides knowledge on the one hand and can be a source of research inspiration (e.g., it helps create tasks in usability tests), methodological guidelines, or research questions.
Research questions
In this part of a UX research plan, it's necessary to write down research questions, the aggregation of which also allows you to see gaps in your knowledge.
Profile of respondents
A UX study scenario should answer what we want to study (e.g., a particular website functionality) and who we want to study.
Proper profiling of respondents, like properly formulated research hypotheses, is crucial to the usability of UX study results.
When profiling respondents, it's necessary to adopt selection criteria that allow choosing candidates of the most representative model group, corresponding to the real users of a digital product.
This section should also specify the number of respondents.
When you are at this step, you should also take a moment to think about how you're going to approach the recruitment of research participants.
The article "Detailed Guide On Developing UX Research Plan" provides a couple of questions that can help you with it.
Namely:
Do you already have a user base you can collect information from?
What is your recruiting budget?
Is there a need to hire external participants?
How many users do you need to interact with?
These will help you find out which type of research participants will be the most suitable for your UX research.
When you're at this step, it's also a good idea to determine how you will compensate test participants. That is not just a matter of being fair or maintaining a good company image/reputation. A proper reward for the participant's insight and time also encourages them to give you complete and valuable answers. Adequate compensation should be provided whether the study is done remotely or in person.
Additionally, in the case of testing internationally, you should remember to check that the form of compensation you're proposing works globally.
Research Methodology
Methodology is a description of a procedure, the conduct of a study (e.g., a study of a website), which is supposed to lead to obtaining the most reliable and credible research results.
The description of the research procedure should be concise enough to provide a quick overview of a study and detailed enough not to raise any questions regarding steps taken when a study is replicated in the future.
In this part of a research plan, the necessary information should be provided so that there is no doubt about what was studied, who was studied and in what numbers, how, with what tools and methods, and under what conditions.
Research tools
Research objectives, methods, and questions determine the choice of research tools.
When selecting research tools, it's essential to take into account the following:
Availability of respondents
How the results will be used
Here are some research tools that you may want to consider using:
Maze
Userlytics
UsabilityHub
Hotjar
For the full list, we highly recommend taking a look at the article "What is UX Research: The Ultimate Guide for UX Researchers" on Maze.
Success criteria
Of course, carrying out the UX research alone can't be considered a success. That is why it's necessary to define the criteria for evaluating the information and results obtained during the study as valuable.
Project schedule and budget
Determining the time required for a study, its start date, end date, course, and the time to complete the various stages is an essential part of a UX research plan.
The time needed to conduct a study can vary. It is influenced, among others, by the research methods, the number of study participants, the amount of data necessary to be collected, and the level of complexity of a product or service that you wish to test.
A deadline for a presentation of results should also be defined.
Determining the budget is also crucial. Similarly to the time needed to perform research, the budget is influenced by selected methods, participants, and the cost of collecting data and recruitment. As a comparison, user interviews can be significantly cheaper to perform than usability testing.
Determining time frames for a research project can sometimes be problematic if we don't take into account the following:
Scale and complexity of a project
Time-consuming research method, particular methodology, use of specific research tools
Division of work and working time in terms of a research team
Random situations and unforeseen circumstances that may prolong the conduct of research.
Presentation of research results
The research results (e.g., the study of a user of a website) should be presented not only in the form of raw data, conclusions, and interpretations but also as a documentation of the entire research process, in which any problems that arose were taken into account.
Documenting the course of UX research, encountered problems, challenges, and even failures is a valuable source of knowledge, which is extremely helpful in designing analogous research or replicating a study.
You can present research results in various ways, starting from a report in a PDF file, digital or physical whiteboard, an interactive online report, and ending with an old-fashioned presentation.
UX research plan and UX research strategy - how do they differ?
According to the article mentioned above on Maze, the UX research plan and UX research strategy differ mainly in the scope of covered details. The UX research plan constitutes a document that allows your team to be on the same page, and it's also a guideline that helps to conduct a single UX research project. In turn, the UX research strategy describes expectations, more significant objectives, and the demographics of the findings.
How to create a UX research plan? Summary of the article
UX research (e.g., usability testing, researching an Internet platform user) allows you to achieve high competitiveness for your digital product.
UX research has an academic, scientific character, making it a valuable tool for optimizing and improving digital products.
User Experience research (e.g., usability testing) is based on methodologies developed in the social sciences.
The UX study scenario is a document, a tool, used to organize the most critical information about the objectives, methods, organization, logistics, and deadlines of the UX research.
A research plan organizes a study in methodological, epistemological, substantive, and organizational terms.
It helps researchers control the course of a study according to established assumptions.
A UX research plan defines the objectives and indicates the best measures and methods to ensure the most credible results.
A UX research plan helps discover research gaps.
It allows all stakeholders to have a shared perspective.
A UX research plan should define the background of a research problem, objective, stakeholders, research method, state of the knowledge, research questions, respondents, methodology, research tools, success criteria, schedule, and presentation of research results.