Boomerun attracted a lot of interest because it promised users that they would receive rewards or access to various promotions in exchange for walking.
Meanwhile, despite collecting points, many app users had to leave empty-handed.
The idea, boasted by Boomerun's creator, is simple – the more you walk, the more points you can exchange for items (Apple Watch 5.0, Xiaomi Amazfit Bip smartwatch, etc.) or promotions.
Sounds all too easy? Nothing could be further from the truth. Tomasz Uściński argues that the rewards were available, but in a quantity that didn't coincide with the surprisingly large number of active users.
"The rewards stopped being available because when we launched the information campaign for Boomerun, we didn't expect to have so many users.

We believed that the interest would be at the level of several thousand people. That's why we offered 700 prizes in the first period" Tomasz Uściński tells The Story Journal.
The startupper notes that, in the meantime, it has managed to attract tens of thousands of users, who have turned out to be very active and redeemed points for rewards until they were exhausted.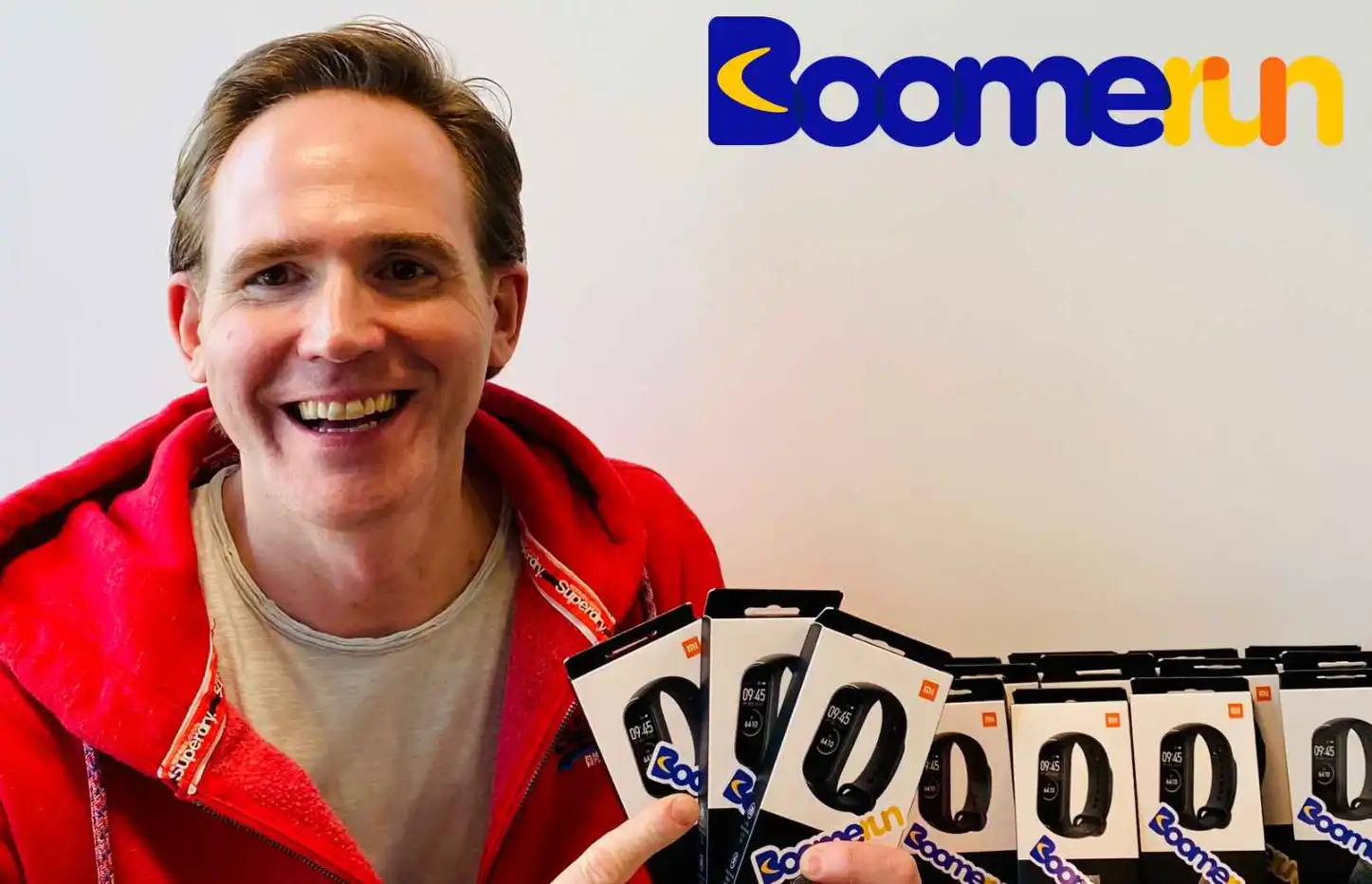 Disappointed, but do they only have themselves to blame?
So let's try to imagine the face of a user who has been collecting points for several months to get, for example, a Garmin watch, while it turned out that the dream prize is no longer available.
Tomasz Uściński remarks that not everyone has read the information on the Boomerun website and app.
"Each code description stated that the codes were not guaranteed, i.e., their number was limited, and their determined availability on a first-come, first-served basis.

However, some users were under the impression that the fact that they had points was enough for them to claim a given reward.

I'm sorry that the information on this matter on our part wasn't comprehensive and understandable. We are constantly learning and building the application," Tomasz Uściński says.
"I'd like to add that we have prepared ourselves well in terms of regulations: the terms and conditions state that the application doesn't guarantee that all users can receive awards. In one of the clauses of the terms and conditions, we included the disclaimer saying that receiving the prize is determined by the availability and order of applications while assuming that not all users will receive awards.
However, it's a lesson to us that the terms and conditions alone aren't enough, as acceptance of them is often automatic," the originator of Boomerun adds.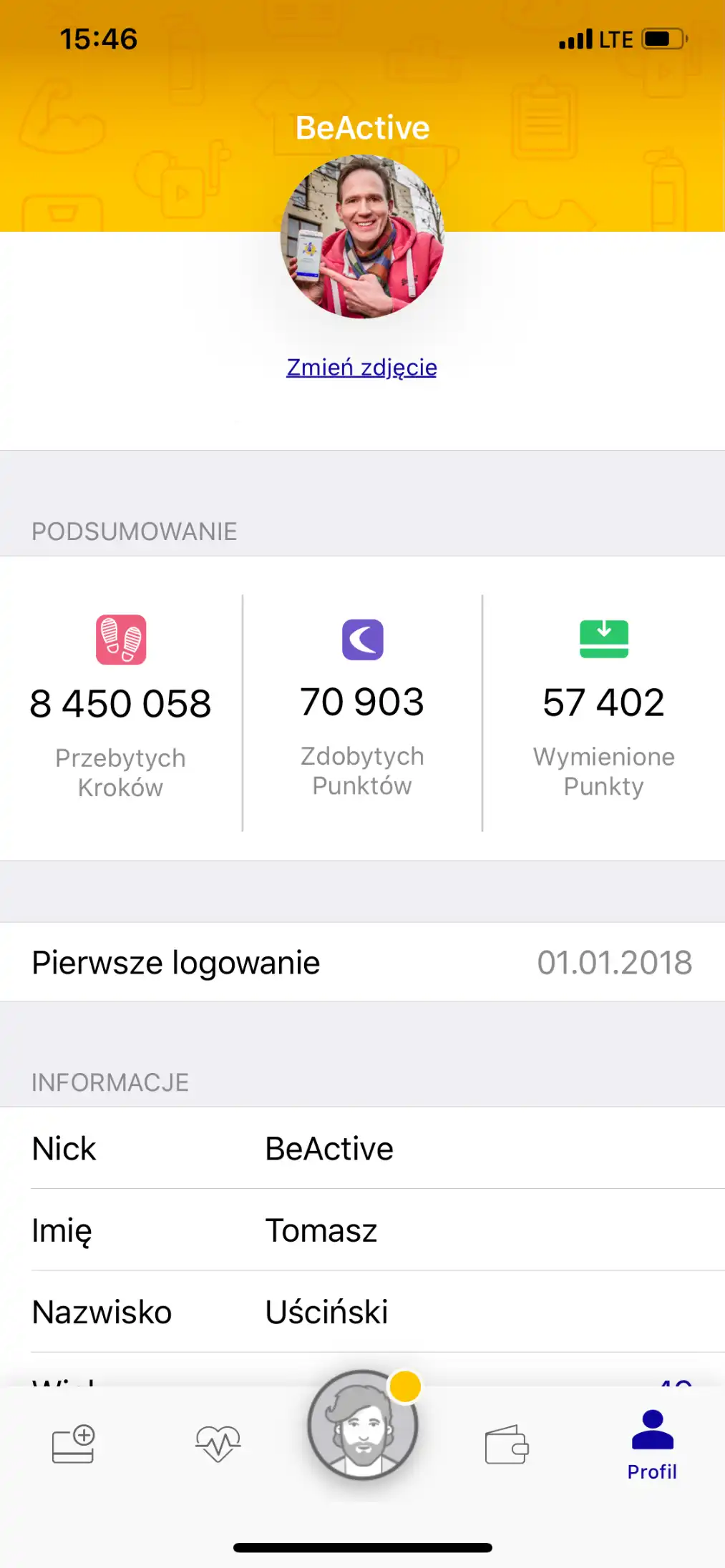 Business Model. From an app with rewards to an app with promotions
Tomasz Uściński wants Boomerun to be perceived differently. He hopes that over time his child will no longer be seen as an app that offers rewards but as an app that offers discounts.
So it looks like the rewards were just a temporary lure. They were supposed to attract users, facilitating talks with potential business partners who would share discounts.
"Since January of this year, I began intensive negotiations with partners. I have had the opportunity to speak with them before about including their offers in Boomerun. But at the time, the app was unattractive to many partners because of its lack of community.

Today, our users confirmed that rewarding physical activity makes sense," Tomasz Uściński believes.
The entrepreneur reveals that he started the first discussions with potential partners in 2018 when the app wasn't available. At the time, Tomasz Uściński was telling partners only about the concept of physical engagement and building loyalty as a result of physical activity. 
"But wherever the idea resonated, the main question was about how many users we have. Back then, of course, I didn't have them at all. Representatives of the biggest brands told me to return to them once the users are there," Tomasz Uściński explains. 
The co-founder of Boomerun makes no secret that he made the awards available in December so that, in the form of a sufficiently large community, he would have an argument in talks with representatives of commercial brands. He says that in about three months (December to February), the startup spent more than 40,592 USD on awards. 
"For our startup, this is quite a serious amount. However, we decided to do this so that as many users as possible receive rewards. This would ensure that dedicated offers are featured in the app," the startupper claims. 
These dedicated offers would consist of shopping promotions – users currently only receive discounts, which we can gain without effort outside the app. According to Tomasz Uściński, offering such promotions is intended to accustom users to a model in which it's not the rewards that matter most but the discounts.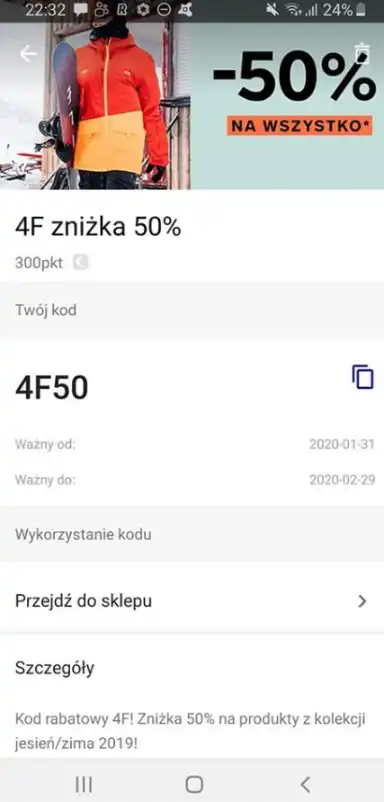 The startupper argues that he didn't want to leave users in a situation where, on the one side, they still have a limited number of rewards and, on the other, they were promised that, over time, shopping-related offers would appear.
"Therefore, as a next step, I decided to present users with publicly available promotions to shift some weight from an app that gives rewards to an app that offers discounts.
Today, we're at a stage where users use publicly available promotions. In doing so, we want to familiarize them with the app's transactional model, which is something we're committed to.
I am currently holding talks with stores to bring dedicated offers to the app" Tomasz Uściński talks about the business model.
Cashback – an idea for Boomerun
The startupper now focuses on cashback to encourage users to use the app. In the planned loyalty program, the idea is that users should be able to make purchases with appropriate discounts.
"I am committed to ensuring that users can receive cashback for physical activity and purchases from my partners. Let's imagine that there is an offer in the app, and the user utilizes it.
He shops for X dollars and, in return, receives cashback to his account, in addition to buying something at a more attractive price. This is my latest idea, which I am currently working on," Tomasz Uściński announces.
Boomerun's originator reveals that the cashback will be withdrawable as cash over time. The second option will be to collect cashback so that later, with the total of all purchases, it will be possible to receive a reward.
The co-founder of Boomerun emphasizes that then we will finally get a guarantee that the prize will definitely come our way.
"The application is changing in a way that will provide a variety of offers. Some of them, of course, will be public offers. But there will also be dedicated programs for Boomerun users. An additional benefit could be the cashback mentioned above" the startupper reveals his plans.
Where the money for the application came from
The application for measuring physical activity and rewarding users for it was funded by the investment fund Rubicon Partners, the Spinaker fund, the Polish Agency for Enterprise Development (PARP), and the National Center for Research and Development (NCBR).

The total amount was 404,509 USD. Boomerun was created as part of the EU's Operational Program Eastern Poland 2014-2020 and startup platforms for new ideas.
High requirements for the prototype
Enough about the plans. Let's look at the origins of the application. Tomasz Uściński informs that it cost about 101,035 USD to create the prototype, and he conducted tests on approximately 1000 users.
One hundred thousand dollars is a large sum, but Tomasz Uściński believes that the role of the MVP has changed over the years. While the MVP used to be aimed at proving a particular thesis and entailed a high degree of simplification, both visually and functionally, today's users often place high demands on the prototype.
"The expectations of the MVP are quite different now – the bar has been set much higher. As a result, the cost of developing an application just to test specific solutions and confirm a thesis is proving to be much higher than years ago," Tomasz Uściński assesses.
He adds that from the beginning of the work, he focused on the high quality of the application – both in terms of visuals and UX/UI, that is, everything related to the user experience.
"We felt that even if there were some stumbling blocks on the technology side, we would make up for it with the visual aspect. The visualization of the application was based on data we obtained from a survey conducted by an external entity.
It was an extensive demographic survey that helped us find out who our potential users are. From this group, we extracted appropriate personas, and based on this, prepared the entire visualization of Boomerun, which was suitable for their needs," Tomasz Uściński explains.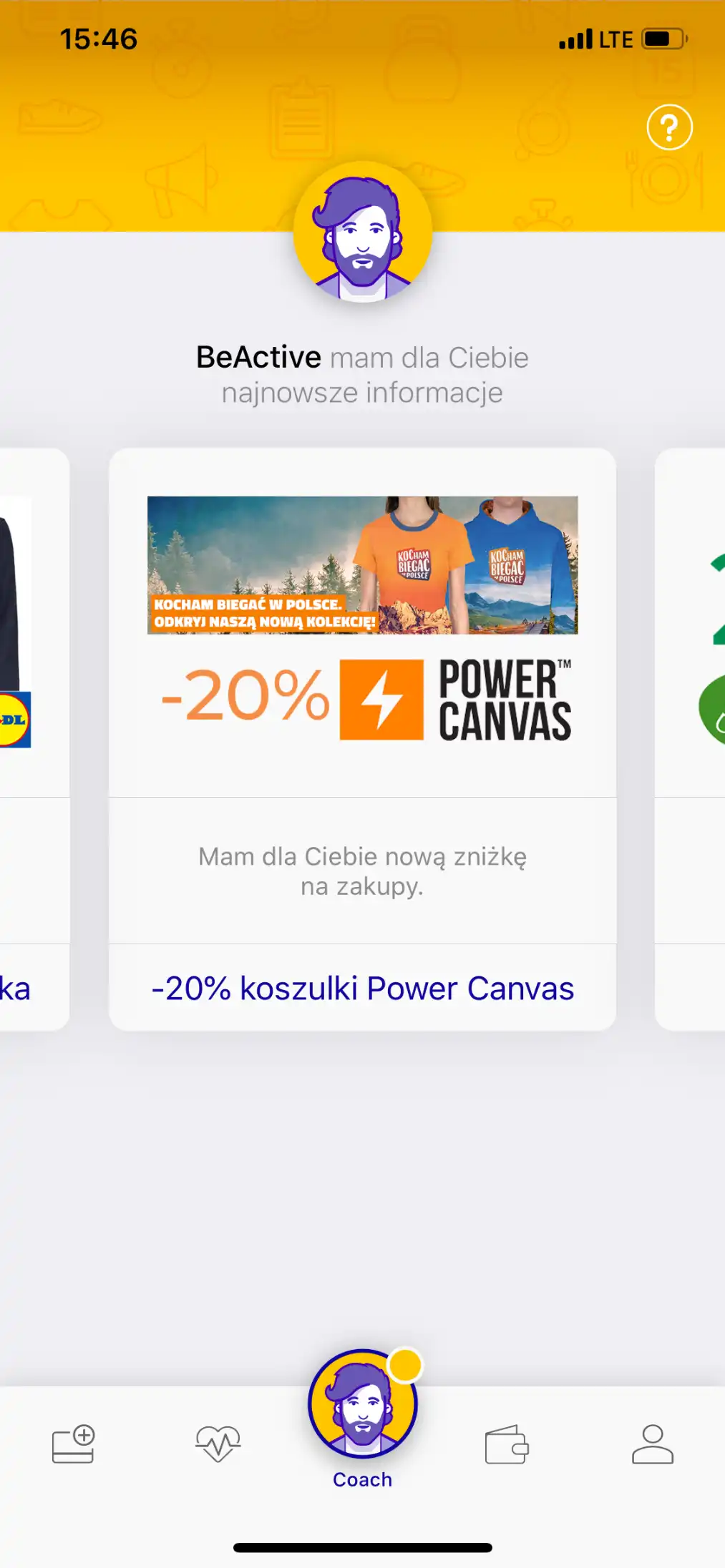 The technological aspect then took a back seat, although the app obviously had to perform its functions.
And these were: the measurement of physical activity (the app counted steps and converted them into points) and the possibility of exchanging the points earned for specific benefits in the app," Tomasz Uściinski enumerates.
We should add that the prototype application lacked rewards – only blank fields were visible, where functionalities would be implemented later.
However, not everything worked as it should. "When it came to monitoring physical activity, our app, to say the least, performed poorly at first.
It calculated steps inaccurately: incomplete or incorrect integration with data sources on the device was occurring.
Upon testing it, I didn't see appropriately measured physical activity. Today it has been refined and works entirely differently," the startupper recalls.
An uncomplicated backend
"The next element was the backend, which is everything invisible to the user. In this aspect, we initially set basic requirements for ourselves. The code was written in a very simple way.

What's more, all solutions related to monitoring the application and activity weren't yet available at the level of reporting and observation through the administrative interface," Tomasz Uściński recalls.
"Therefore, whenever I wanted to learn about the application's users and their activities, I had to create database queries with appropriate selections. At that stage, there was no interface that allowed me to get information easily," the entrepreneur recalls.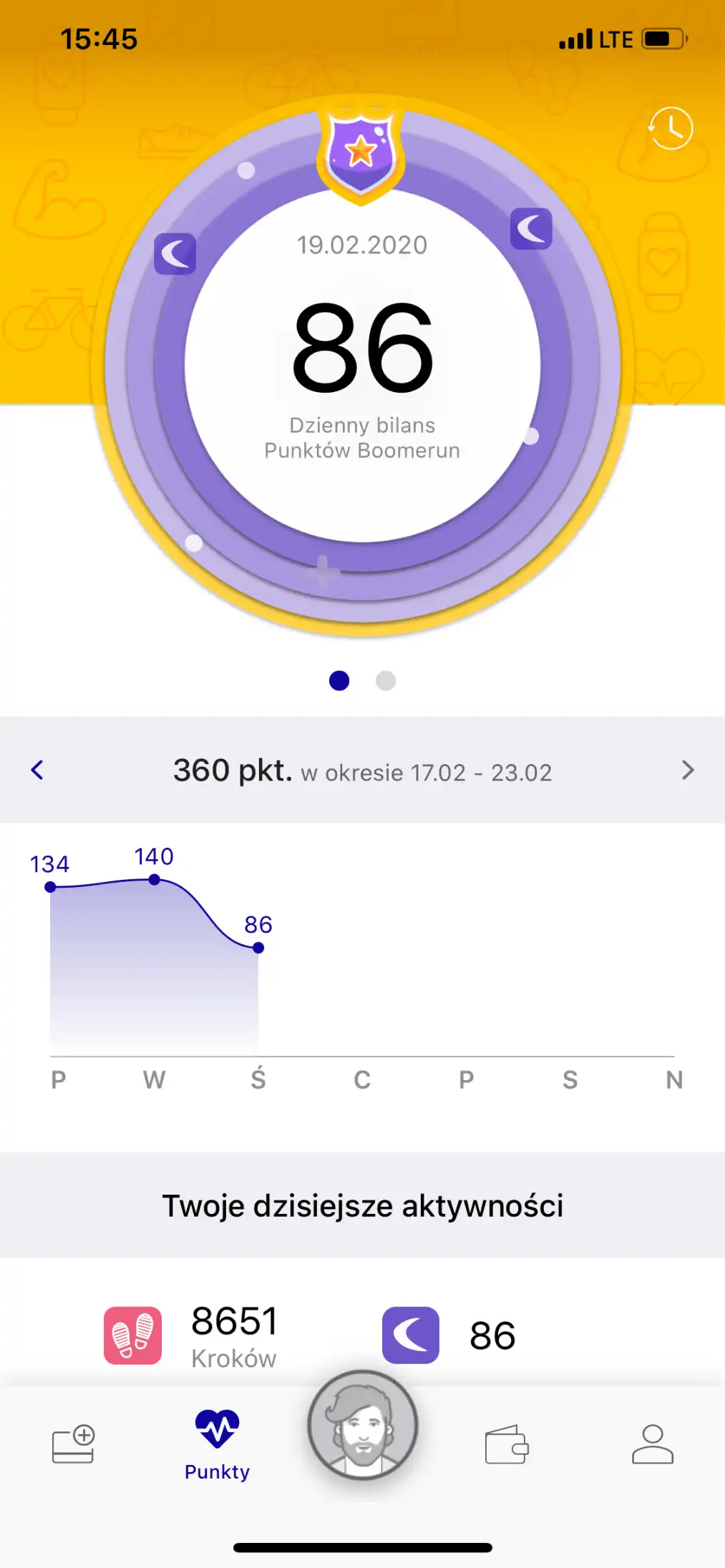 How the prototype was hosted
Let's move on to another technical aspect – hosting. The prototype was hosted by an external provider, as Tomasz Uściński didn't have his own servers.
"It was a simple solution that didn't require a lot of resources," he explains. He adds that another essential element that proved to be a bottleneck during more extensive tests was the issue of handling e-mail messages in the application.
"The process of registering a user looks like this: the user talks to their coach (chatbot) during onboarding. Once they've gone through all the steps of such a process, they receive a unique link with a token through e-mail, which, if clicked, will verify and create the final account," the startupper explains.
Initially, Google was the system that handled e-mailing. "It worked well when we gained about 5-10 users per day on average.
Such users used to come to us by accident, but that's how their number grew to about a thousand within a year.
But once it became clear that the influx of users was much greater, we had to bet on entirely professional solutions," Tomasz Uściński admits.
The purpose of the prototype
In the case of the Boomerun prototype, the idea was to test whether the model of rewarding physical activity works. Tomasz Uściński says that, over time, such a model has been proven to work fully.
"We've started with the premise that we aren't developing an app to launch it on the market by force later, but first, we want to learn about the market and build an app based on our knowledge and insights. In other words, we applied the design thinking model," the startupper argues.
"From the beginning, we decidedly focused on research and market recognition. Even before we built any technology, the next step was to think about who we wanted to speak to and in what language. So we addressed the communication issue.
Once we knew our target audience and had a vision of what we wanted to convey to users, we thought about how we would build a brand," Tomasz Uściński remarks.
He recalls that the next step was to build a brand and value proposition for several personas (users). At that time, the logotype and message behind the application were ready.
"An important element was to reach out with our proposal not only to users of the app but also to business partners, who were supposed to place their offers in Boomerun," the app's creator emphasizes.
Preparing the entire solution for them, telling them what benefits the application could give them, and translating that into the language of technology proved to be a big challenge.
Only later, when we had a brand book and a logotype, we started working in UX/UI and building the application from the visual side.
Once we had that down, it was only then that developers and DevOps came along – we started with everything related to "hard technology."
I want to add that we prepared the application for two operating systems (Android and iOS), which influenced the cost," Tomasz Uściński discusses.
 
Tomasz Uściński doesn't give up
Tomasz Uściński already has some experience making a prototype and a finished product, which has received a lot of negative feedback on Google Play.
"Please note that we have two types of reviews about Boomerun: very positive ones that say the app is great, or negative ones that don't refer to the app itself.
There is only an expression of dissatisfaction that users don't have the opportunity to use their points. This is an issue unrelated to the technology itself and how the app works," Tomasz Uściński rebuts, and I, in turn, remind him that the rewards are the heart of Boomerun.
"At the beginning, we communicated that in addition to the fact that the application will offer rewards, it will also be used to buy cheaper products as part of various promotions, discount codes, or loyalty programs," Tomasz Uściński replies.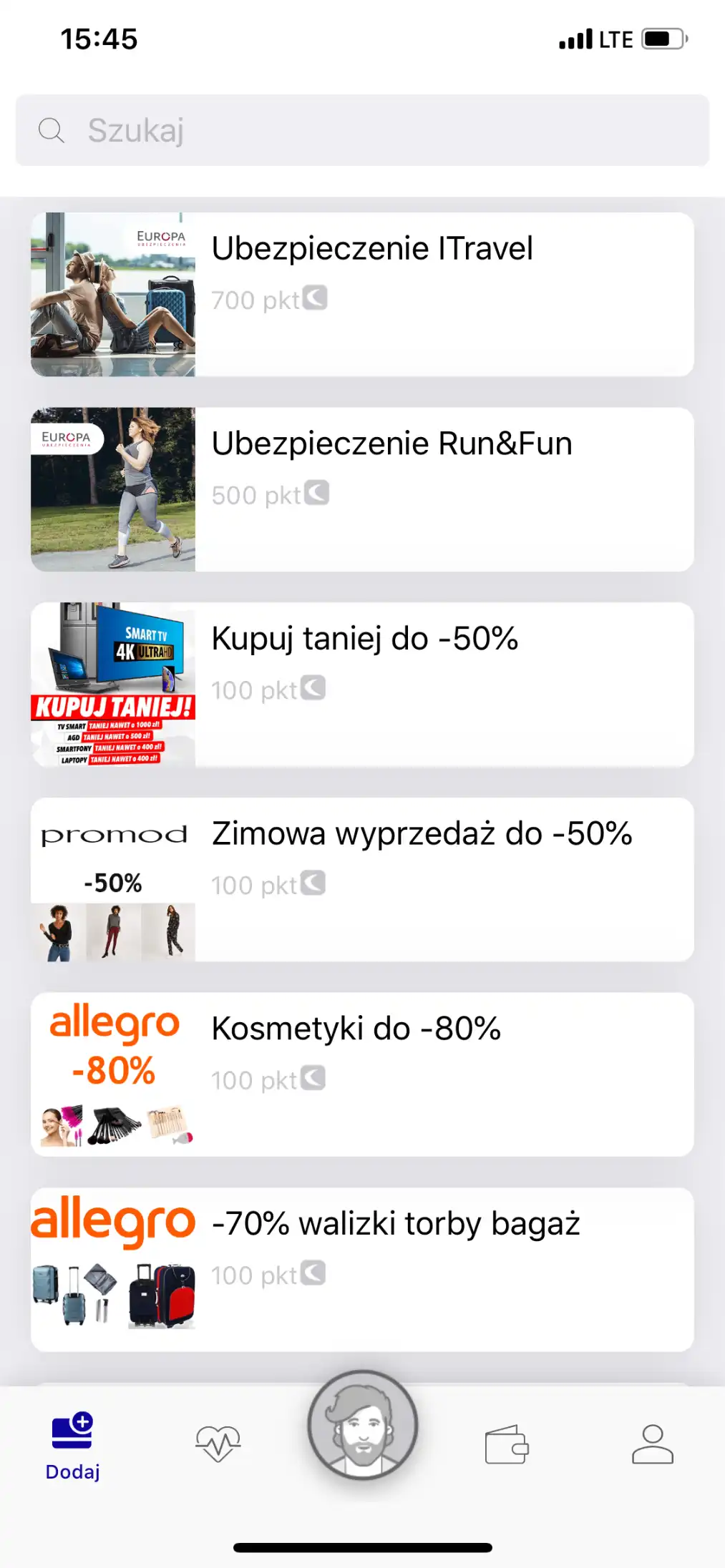 He reveals that while such a solution is not yet in place, he is already completing talks with partners. This will ensure that dedicated offers appear in Boomerun as soon as possible.
"We've been working on the new concept for about a month. It's a short time, and we still managed to add promotions from our partners to the app. I constantly remember that they are publicly available, but we're taking action step by step. We aren't able to organize a space flight in one month," the startupper explains.
"What's important is that we're currently building a track record for our partners. Please remember that these are large organizations that think in big numbers. Today, even if we have about 100,000 users, brands want to see the real impact it has on users and how their real purchase activity looks. By the way, we can see that users are shopping, which makes me very happy," Tomasz Uściński emphasizes.
Understanding the position of the startup
Tomasz Uściński says there is no shortage of people among Boomerun users who understand the rough position of his venture.
"The situation of a startup, a company that is just taking off and building its offer. And that's what matters to me.
The plan I've set for myself is to expand the offer and build additional functionality in the coming weeks – not just at the app level anymore, but also on the website, where we'll find the user panel.
Within this panel, users will be able to manage their offers and redeem points, and in time, cashback and rewards," Tomasz Uściński promises.
In turn, he treats unfavorable reviews about Boomerun as valuable feedback.
"Therefore, the first period of user acquisition provides valuable information for me about how to build a startup. I received specific market feedback about the application. For me, the most important feedback is that the application should grow. Both on the level of functionality, and we're already working on this aspect, as well as, there should be the possibility of exchanging collected points, which we're currently working on too," startupper informs.
And when asked about Boomerun's low rating (2.2/5) on Google Play, Tomasz Uściński responds:
"Of course, this is a certain cost I must bear. I couldn't afford to give awards to all users. After all, even if I were to provide each user among those 100,000 with a gift card worth $10, one can easily calculate the cost this would entail. This is an unaffordable cost," he argues.
The startupper also realizes that his image has suffered but continues to fight for Boomerun's success.
"The cost I'm currently incurring is an image cost – my app has this rating on Google Play and not another. What can I do now? I can give up and say: Okay, fine, with this kind of rating, I won't be able to lift the app. But that's not the point. Based on this experience, I have to build a new value for the user," Tomasz Uściński says.
Get inspired by the story about the ParrotOne app!
The co-founder of Boomerun hopes that despite the recent criticism, the perception of his app will change for the better.
"I believe that as new users come over time, the rating will change for the better. Maybe even those who have already given negative reviews will change them later. As I said, I'm at the beginning of the road," the Boomerun originator concludes.
Thanks for reading! Next time we will take a look at another unusual application.