ParrotOne is used for more efficient and secure communication. The app is mainly designed for people with disabilities, although anyone can use it. Using its example, we show how much it can cost to make a prototype of your own app.
On Google Play, ParrotOne has a high rating of 4.1/5. However, behind the app isn't some veteran businessman – the originator of the venture, Piotr Lewandowski, had previous experience writing about the IT industry, but ParrotOne is his first digital product.
How ParrotOne was born
Piotr Lewandowski started by writing on the no longer existing website kompz.net. As he admits, this took place at a time when smartphones, flat screens, and constant access to the Internet didn't exist yet. Then he joined the FrazPC.pl team, which gave him a pass to the press over time. The originator of ParrotOne worked with "Komputer Świat Ekspert" (Computer World Expert), "Chip," and "Click!" where he wrote for the hardware section.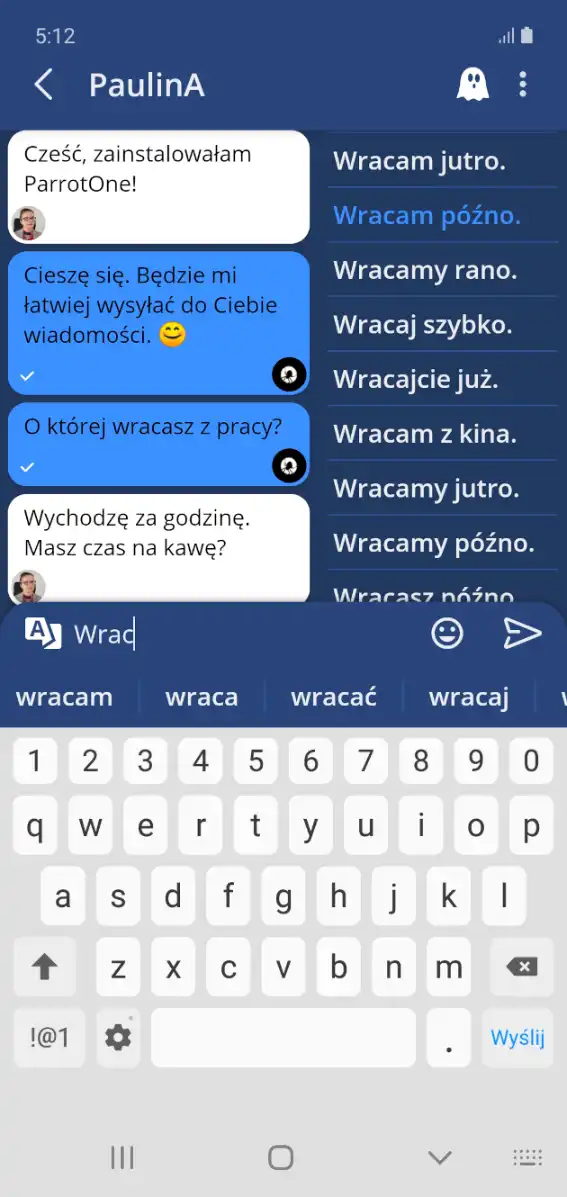 "However, after the appearance of permanent Internet access and smartphones, the newspaper market was no longer kind to computer magazines. The well-known titles began to disappear one by one. This was a clear signal to look for another path" Piotr Lewandowski tells The Story Journal.
"As much as I enjoyed writing, my hands were becoming less capable. I remember the day when I could no longer operate DualShock normally and play Pro Evolution with my friends. Then the first idea related to ParrotOne appeared," he adds.
An application that doesn't treat the user like a money-making machine
ParrotOne is unique in that it takes a human approach to the user. Piotr Lewandowski argues that he isn't interested in making money at any cost, as Mark Zuckerberg, for example, has become famous for many times before.
"At ParrotOne, we have approached the user as if he were our friend, not an element that must be monetized as quickly as possible at all costs. We hope that by treating the user fairly, he will return the favor and in some way – whether by choosing a premium account or sharing information about ParrotOne with friends – helps us grow" Piotr Lewandowski says.
He mentions that this approach makes the application light, easy to use, and doesn't contain elements that can negatively affect the safety and comfort of use.
"We consciously decided not to display ads. No one likes them, and on top of that, they could prevent people with disabilities from using the app".

Processing personal data for commercial purposes, on the other hand, is, in our opinion, the biggest plague that afflicts social media applications on the market today," he assesses.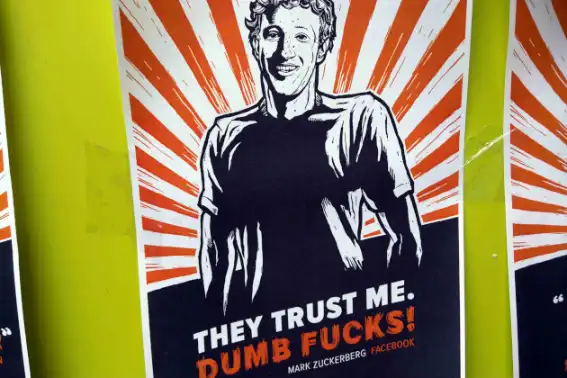 "While using Facebook, for example, we accept that a stranger enters our home, looks into our cabinets, checks what we eat, how we live, what we do in our free time, and with whom and what we talk about.
This is a reprehensible practice because we somehow lose our independence and privacy. Fortunately, ParrotOne moves in a completely different direction. I can confidently say that it's one of the most secure applications for communication in the world," the creator of ParrotOne boasts.
A communicator for people with disabilities
What else sets ParrotOne apart from the competition? "We managed to integrate both a social model and a private messenger in one application," Piotr Lewandowski explains.
The app uses machine learning to suggest single words and whole sentences to users. This is a great help, especially for people who have problems with their hands due to disability.
In addition, ParrotOne has many features, thanks to which, with one click, we can, for example, delete the entire message.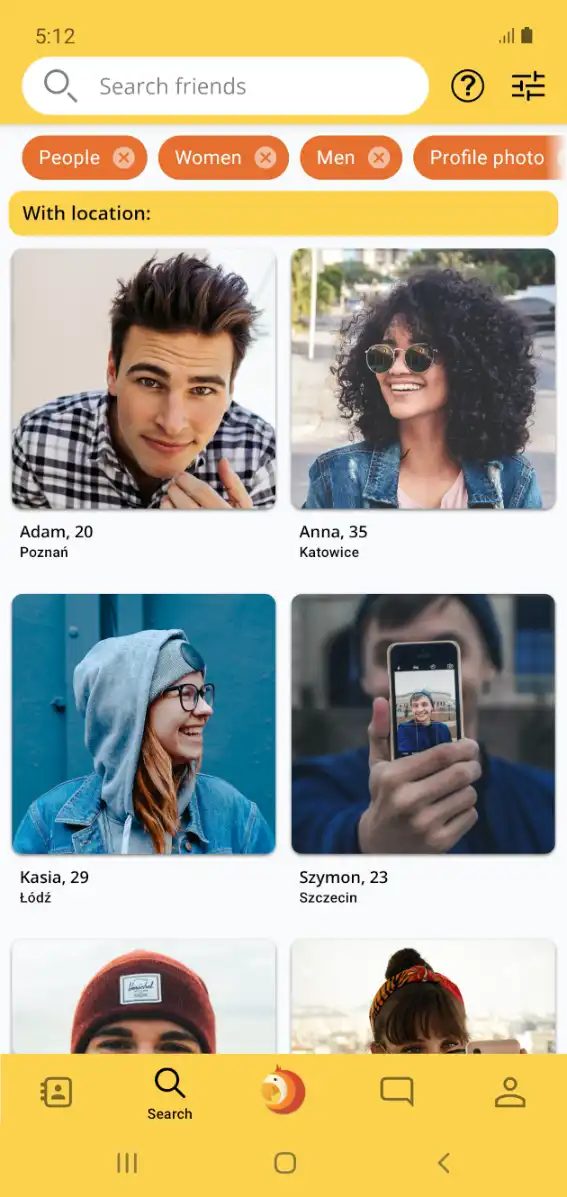 What was the cost of ParrotOne's MVP
Piotr Lewandowski admits that people with disabilities are often unaware of their own capabilities and close themselves off because of their limitations.
That's why he created a tool to help them open up to interacting with people and making new relationships.
However, before creating a fully-fledged product, he started working on an MVP, a prototype.
"There are different definitions of MVP. One of them states that a Minimum Viable Product is a prototype that demonstrates key functionalities in the target environment. But we also have a definition according to which the minimum version of a product is an alpha or beta of an application, which is made available for testing to a closed or open group of users" Piotr Lewandowski analyzes.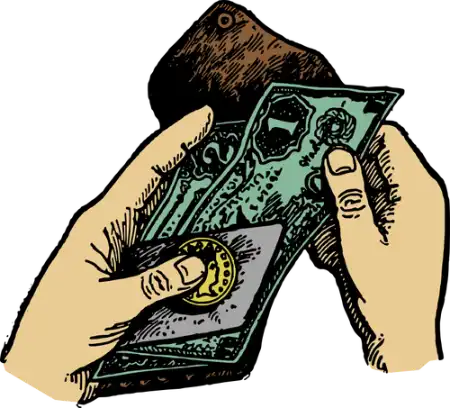 The startupper explains that ParrotOne's MVP was a prototype of an Android version that showcased UI and machine learning functionality tailored for people with disabilities.
In addition, the MVP included a simple communication protocol so that we could send messages to each other.
"From the beginning, ParrotOne has been formed by a group of friends who created an MVP for a symbolic amount (a total of 4,044 USD was allocated for salaries). The prototype consisted of a chat window, a limited dictionary, and beta machine learning mechanisms" Piotr Lewandowski explains.
So the whole ecosystem that we will find in the application now was missing. Moreover, the user interface was severely limited compared to the current one.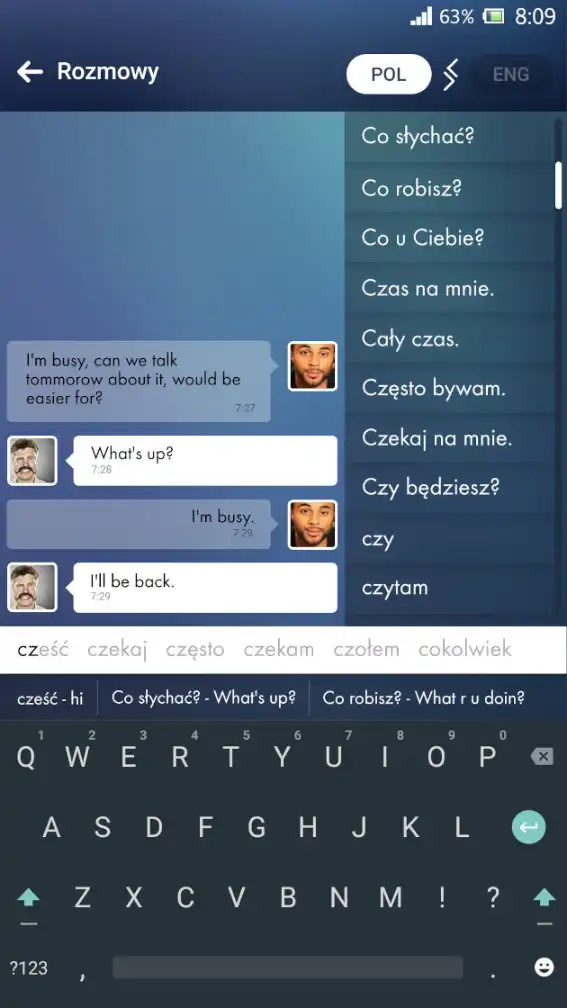 "The MVP was only meant to give a small indication of what we wanted to achieve over time. You could even say it was an alpha version since the dictionary didn't contain too many entries.
We made the MVP with the hope that it would pay off someday. It took about four months to create the prototype, so the work went smoothly," the startupper says.
How an MVP helps startuppers
ParrotOne's originator adds that an MVP is useful when, as startuppers, we seek external help.
"When you're a startup and looking for support, both in terms of investment and promotion, having an MVP is definitely a good idea. Thanks to the MVP, we will showcase our product much better than through a presentation.

The most polished presentation won't deliver the same experience as being able to interact with a prototype, even in a limited form, as in the case of ParrotOne. I'll add that thanks to the prototype itself we have won some very important awards" Piotr Lewandowski says.
A selection of ParrotOne reviews from Google Play
"The first Polish communicator and a real alternative to Facebook Messenger, WhatsApp, Viber, and others on the market. Moreover, it was created with accessibility in mind.
Excellent communicator for the elderly and people with disabilities. I'm a satisfied user, and I'm bursting with pride because of the Polish instant messenger".
"There are many facilities in the app to make communication easier and faster. Effective, interesting, and simple form create a good combination and an alternative to other communicators. I definitely recommended it".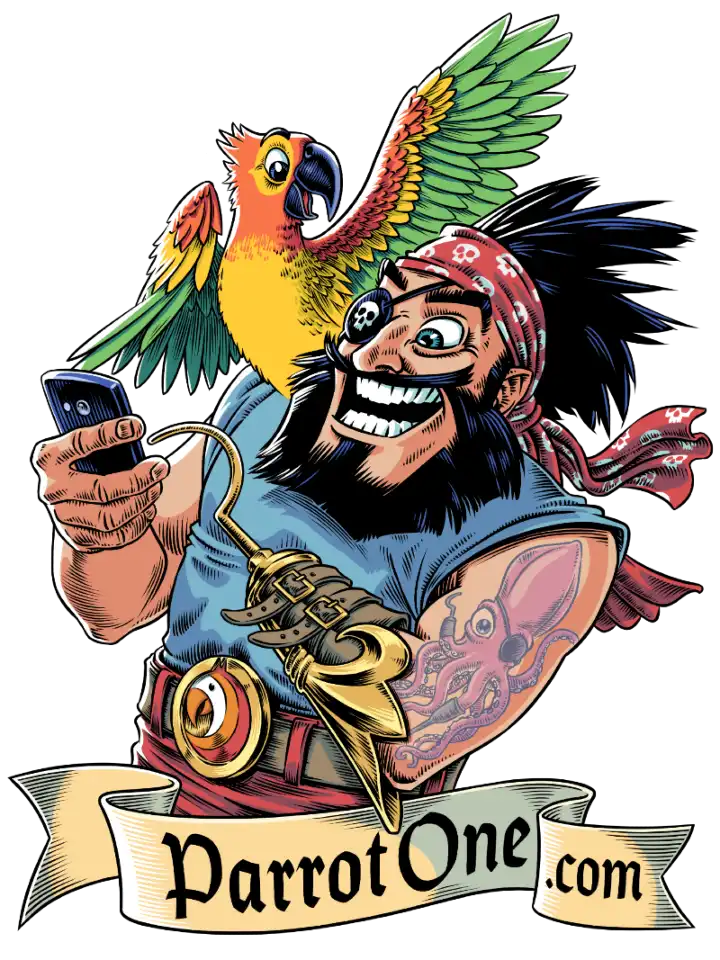 "This app is sensational! It's fast and efficient thanks to the numerous suggestions, among other things. I recommend it to everyone! No more following the user and no more numerous ads".
"A very useful and easy-to-read app that really makes it easier to write with friends. Thanks!"
Crowdfunding: a startupper advises other startuppers
The beginnings were tough because of the problem of raising money to create the final product. The originator of ParrotOne has had an unsuccessful, although instructive, fundraiser on a crowdfunding platform, which has nevertheless helped boost the startup's visibility. What's more, the money for the project had been found anyway, although private investors provided it.
 "From start to finish, ParrotOne's financing is provided by private investors. Before attracting an investor, we did a crowdfunding campaign, but we failed to raise the amount we needed. All because the interest of people without disabilities in supporting such a project proved too small. We made a campaign with no experience. However, I believe that if we had attempted it again, it would've been successful" Piotr Lewandowski thinks.
Change in communication
At a particular stage of development, ParrotOne changed communication – it was no longer identified only as an app for people with disabilities but also for people without them who want to communicate in a simpler and faster way. Piotr Lewandowski believes that targeting only one group has swayed the outcome of the crowdfunding campaign.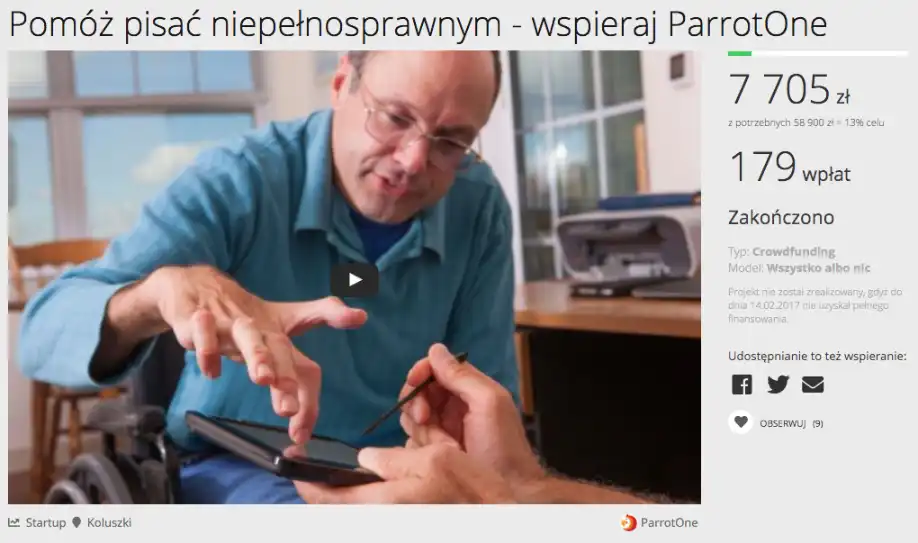 "Our fundamental mistake was that we didn't reach out with the campaign to users without disabilities. Instead, we focused on people with disabilities, who, especially in Poland, aren't usually in a good financial situation, particularly when we are talking about those whose disabilities are very advanced" Piotr Lewandowski points out.
He also says it was a mistake to count on people with disabilities to fund the project.
"At the time, we hoped that if everyone threw in a bit of money, we could raise the needed amount. What's more, the campaign also requires money for promotion, which we didn't have. All the information on the Internet about the campaign appeared thanks to the support of our friends. The days when information went viral on social media are gone, although there are exceptions, but this isn't likely to happen with apps" the ParrotOne creator admits.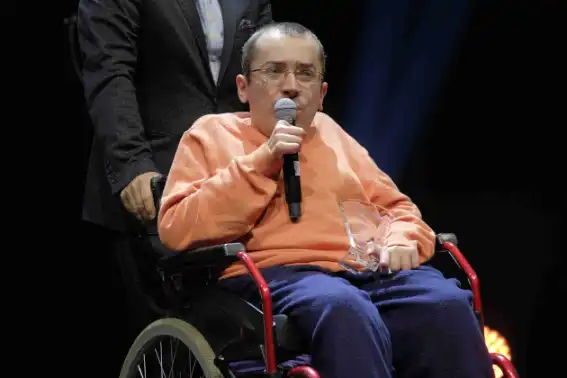 The startupper says that when deciding on crowdfunding, it's a good idea to learn from other people's experiences. He estimates that he and his team lacked a precise plan for promoting and constructing the campaign.
"I think we needed a mentor to show us what it's like to run such a venture. I started talking to people who had already run such campaigns too late.

Nevertheless, the crowdfunding campaign resulted in the startup being noticed. We showed that we exist and want to do something cool, but financing had to be approached from a different angle" Piotr Lewandowski concludes for us.
Thanks for reading! Next time we'll look at an app that has stirred up a lot of controversies. In the meantime, feel free to share this article about ParrotOne using the buttons below.